Family Nurse Practitioner Certificate (Post-Master's)
Designed to provide experienced nurses advanced curriculum to prepare practitioners for primary care of the family and/or individual across the lifespan from birth to death.
Program Overview

Family Nurse Practitioner Post-Master's Certificate (27 credits)

This post-master's certificate offers advanced study with a focus on health and a holistic approach to individuals and families, offering a unique and much needed approach to primary care. Learn to help patients throughout the entire lifecycle, assisting in diagnosing, and managing common acute and chronic primary health care challenges, and improve the health of individuals and families while identifying risk factors and preventative illness.

Upon completion of this track, you will be eligible for family nurse practitioner certification through the American Nurses Credentialing Center (ANCC) and the American Academy of Nurse Practitioners (AANP), and will be eligible to apply for state licensure.

The curriculum content and processes are consistent with the National League for Nursing (2005) Core Competencies for Family Nurse Practitioners.

To view program application requirements, please see the "Curriculum" tab.

Curriculum

Admission Requirements

All candidates must apply online at: www.endicott.edu/Van-Loan/Van-Loan-Admissions

Applicants should submit the following to Van Loan School Admissions, Endicott College, 376 Hale Street, Beverly, MA 01915

Non-refundable $50.00 application fee (check made payable to Endicott College, cash or online) Application fee waived for veteran and military students;
Two letters of recommendation (one academic reference and one professional reference);
Official transcripts of all post-secondary academic work sent directly from the institution(s) including confirmation of undergraduate degree, date confirmed, and any other graduate work;
Essay of 250-500 words on career goals and motivation for graduate study;
Test of English as a Foreign Language (TOEFL) for all students whose native language is not English; minimum score of 550 (paper-based) or 79 (iBT) is required. The institutional code for Endicott College is 3369. Endicott also accepts an IELTS score of 6.0 or better;
All admissions requirements must be satisfied in order to be formally accepted in a degree program. Students must be formally admitted to a program before the completion of six Endicott credits.
GPA greater than or equal to 3.25
Photocopy of Registered Nurse License verification, which must be current and unrestricted
A basic statistics course is required of all students;
Resume and/or curriculum vitae
Interview
GRE required for FNP Candidates ONLY

International Applicants for Graduate Admission
Endicott College welcomes and encourages applicants from around the world. International applicants are required to hold a college or university degree equivalent to a four-year American baccalaureate degree. Educational documents in a foreign language are required to be translated into English. All transcripts and translations of transcripts must be official originals and must show courses completed, grades received, grading scale, duration of study, degree or diploma received, and the date conferred. Endicott College reserves the right to request verification of the credentials by an external agency.

International applicants must submit current TOEFL scores when their native language is not English or when their baccalaureate transcript is not from an institution where English is the language of instruction. Once students have been admitted as degree candidates, Endicott College will send detailed instructions about the process for acquiring an Endicott-sponsored student visa.

Program of Study

Learning Outcomes

Upon completion of the program, students will:

Demonstrate a repertoire of skills and strategies for a nurse's role as an effective leader within an organization
Synthesize nursing knowledge and experience within a conceptual framework for advanced nursing practice
Function as a nurse leader in the conduct and application of research
Collaborate and communicate to establish and maintain a professional work environment
Engage in continuous life-long learning and scholarship
Integrate ethical, legal and professional standards of practice from the perspective of a nursing role specialty
Foster sensitivity to the individual's connectedness to the human and global community that will enhance the provision of care among diverse ethnic and cultural populations

Required Curriculum: Nurse Administrator Certificate

Four-Course Sequence of Classes

NUR 510 - Organization and Structure of Nursing Leadership

NUR 526 - Nurse as the Administrator

NUR 532 - Administration: Practice and Quality Outcomes

NUR 582 - Internship in Administrator Role

Total - 15 credits

Required Curriculum: Nurse Educator Certificate

Four-Course Sequence of Classes

NUR 505 - Curriculum Design, Course Development, and Program Evaluation

NUR 509 - Internship in Educator Role

NUR 561 - Nurse as the Educator

NUR 565 - Teaching Methods: Principles of Teaching

Total - 15 credits

Required Curriculum: Family Nurse Practitioner Certificate

NUR 550 - Pathophysiology of Human Disease for Advanced Nursing Practice

NUR 551 - Comprehensive Health Assessment and Clinical Diagnostic Decision Making

NUR 562 - Advanced Pharmacotherapeutics for Family Nurse Practitioner

NUR 566 - Seminar for the Professional Nurse Practitioner

NUR 567 - Primary Care of the Childbearing Family

NUR 568 - Primary Care of the Childbearing Family Practicum

NUR 569 - Primary Care of the Adult and Geriatric Patient

NUR 570 - Primary Care of the Adult and Geriatric Patient Practicum

Total - 27 credits

View academic catalog and learning outcomes

Clinical Requirements

The family nurse practitioner internship course provides students an opportunity to integrate knowledge and skills learned in the classroom setting into practice. Internship placements are arranged individually through the School of Nursing. Experiences are selected with the student to meet course requirements of 600 clinical hours.
FNP Post-Master's Certificate at a Glance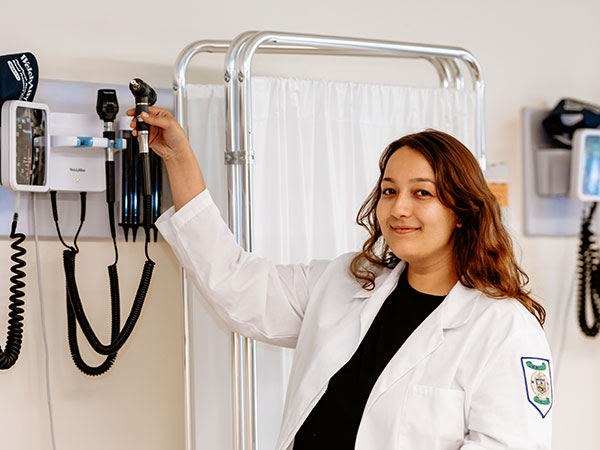 Looking to Earn Your M.S.N.?
Advance your nursing career with a patient-centered, family-focused nurse practitioner program
Endicott offers a M.S. in Nursing with a concentration in Family Nurse Practitioner.
Contact Us
Amy Fuller, DNP, WHNP-BC, MSN, RNC
Director, Master's Nurse Practitioner Program
978-232-2331
Cynthia Bashaw, DNP, APRN, FNP-BC
Chair, Master's Nurse Practitioner Program
978-232-2334